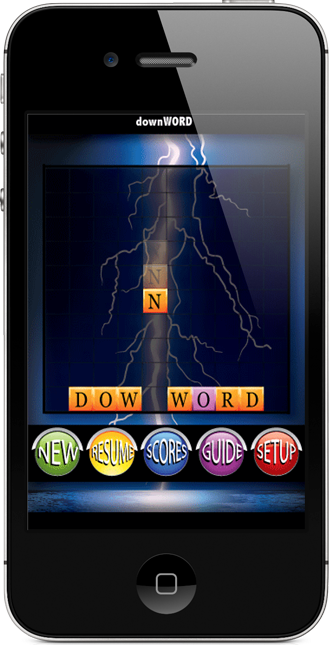 downWORD was my first game for the iPhone/iPod touch. Word and Puzzle game lovers alike will rejoice in a fresh new game that challenges the players to spell words from falling tiles in a tetris-style format. Words can be formed vertically or horizontally and as they clear, new words can be formed as the top rows drop down to fill in the gaps.

downWORD features two unique game modes:


TIME ATTACK!
A quick 3 minute game where the speed increases every 30 seconds and the objective is to see how many points you can score in a limited time.


ENDURANCE!
No clock, just you and an endless amount of tiles. If the board fills up, game over!

downWORD incorporates 4 different dictionaries allowing users to select casual US or UK word lists or tournament SOWPODS and TWL word lists.

Every game is posted to a webserver to give you instant feedback on how you are doing compared to other downWORD players. Ranks are updated constantly, so you'll be challenged to stay on top as players from around the world compete to be number 1. downWORD is now available from the AppStore.

PS: Look for a refresher on graphics and sound in the Winter of 2011